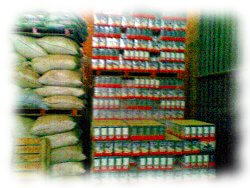 Annually we process in harvest time for export soybean, wheat, sunflower, sorghum and maize. We offer to our clients general inputs for the planting of their products.
In the local market, we provide services of silaging, processing, milling and packing also of wheat for the production of baking flour, sorghum, ground whole corn and beans.
In addition we silage, grind and pack mate tea in different types and presentations, according to the local markets, with automated processes and strict quality control by highly qualified staff who have a modern laboratory and latest technology equipment.